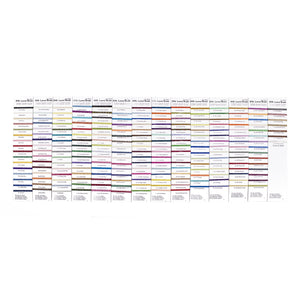 For 18 Count (SL)
Needlepoint 16-18 Count
Long Stitch 13-16 Count
Cross Stitch 11-16 Count
72% Silk, 18% Rayon, 10% Metalized Polyester
10 Yards (9.1 Meters)
Hand Washable, Test First
Made in USA
 A mix of silk and metallic together give your design a wonderful sparkle. You can use it as is off the card for stitching, no plying necessary. 18 count contains four strands of silk and four metallic filaments braided together. 13 count  is a blend of eight strands of silk and eight metallic filaments. Makes a beautiful twisted cord and tassel for finishing.