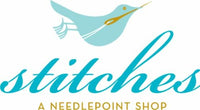 Greetings and welcome to Stitches of Tulsa LLC
A locally owned needlepoint shop in Tulsa providing a comprehensive range of services. Find a diverse selection of hand painted canvases to suit every taste. Elevate your stitching with the high-quality threads available at Stitches of Tulsa.

Our shop is open:
Wednesday, Friday & Saturday 10-3
Thursday 'till 7:00
Follow along on Instagram at stitches_of_tulsa to see highlights, finished projects and events.  

Use code 918 to save 30% on in-stock canvases.